It's time to beat the winter blahs! And what better way to do it than taking a night off cooking. Are we right? Well The Florian Realty Team is here to help! For 11 weeks, we'll be featuring 11 local restaurants and GIVING YOU A CHANCE TO WIN A $100.00 GIFT CARD FOR OUR FEATURED RESTAURANT!
Let's face it, our local restaurants could use a boost, so we're hoping this will bring some much needed attention to them too. (It's a win/win in our books).
Entering to win is simple! Three simple steps: 1. Like and share this post. 2. Like and share the restaurant of the week. 3. Like our Florian Realty Team page. That's a lot of sharing, but hey, sharing is caring right?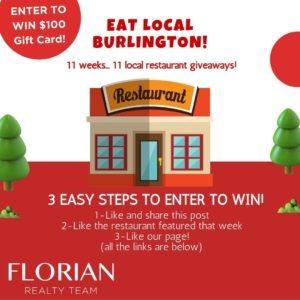 Remember: every week for the next 11 weeks, we'll be featuring a new restaurant and you'll have to "like" the new restaurant every week to be included in that week's draw.
Thanks for supporting our local restaurants…
(oh.. And good luck!)